We are pleased to announce the very first beta release of IPFire 2.15. This release of IPFire has been under development for more than the last year and it brings very many and very big changes with it.
The number of changes is actually that high that I am not able to put them in one single change log so that it remains readable. Of course the new firewall GUI is one of the biggest features and you won't miss the new theme of the web user interface. Here is an incomplete list of the past posts on the IPFire planet about other noteworthy changes:
---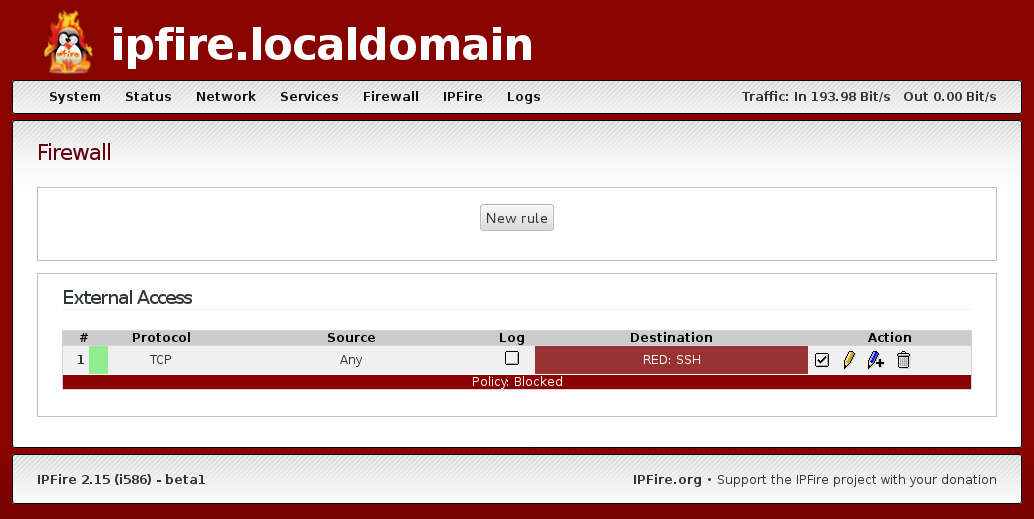 ---
The final release date is yet unknown, because we are going to plan a really huge beta program that is required due to the many changes. So we would like to encourage everyone to install this beta version and contribute to finding all issues that remain. We are pretty confident that this beta version is already very stable and we have already done our best to sort out as many bugs as possible. But as we all know, this is never enough, so please, please join in!
How to install?
Log in to your IPFire 2.13 Core Update 75 (this is important!) system on the console and edit /opt/pakfire/etc/pakfire.conf. Put "2.15" in the version variable, save and then execute:
pakfire update --force
pakfire upgrade
After a while when everything is finished, perform a reboot. Don't do this too early or during the update because that will break your system.
Update: There is an issue accessing the firewall GUI. A workaround is available.
If you want to install a new system download the image files from here.
Please do not install this testing version in a productive environment and make sure that you enable fireinfo that we can see how many beta versions are running.
How to report bugs?
It is really important to us that you help us to find any bugs. Please make sure that you identify what is a bug and what is not and that you report it to our bugtracker. It's really easy. There is also a guide available on How to write a good bug report? which explains some requirements and best practices.